Been reading a lot of crime novels as of late. It seems to be my "go-to" genre when I'm at a loss for what to read, when I need a page-turner to kick start my reading jones, or when I want respite from writers getting all post-modern and collegiate on my ass. Here are some quick reviews of what I've read in recent months.
My Gun Is Quick by Mickey Spillane
I do love Mickey Spillane. Maybe it has something to do with the Colt 45 ads from my youth, who knows? But he has now taken the place of Steinbeck as a go to guy when I need to be re-energized. It used to be that after having read a couple of clunkers, I'd pick up a Steinbeck novel because they were always engaging, always entertaining, and an easy read. Guaranteed to get me back in the reading groove. Now I go for the Mick.
My Gun is Quick
is a goodie. It seems foolish doing an in depth review, because in a way, they're all kind of the same. But the writing is so good, it doesn't matter. It's a fun ride, down back alleys, into seedy bars, into ritzy bars, Mike Hammer rushing headlong into the fray. The alleys are always a little different, the frays a little different, the drinks always strong, and the women always curvy. I will say that the final "tragedy" in this one was painfully predictable, but there's always a moment or two of cheeseball, predictability in these affairs. What are you going to do?
Cropper's Cabin by Jim Thompson
I had been mired in some "arty" books (
Savage Detectives
,
Blood Meridian
) that spent a lot of time meandering around the story. I decide a little Jim Thompson might be the antidote. To be fair, I'm not the huge Thompson fan that others are. I've read a handful and always like, but with the exception of
After Dark, My Sweet
, I never love.
Cropper's Cabin
seems par for the course between Mr. Thompson and me. I thoroughly enjoyed it, but it wouldn't be the first thing I'd recommend to someone. Certainly served as the antidote I was looking for though. Sharp as nails writing, with action and dialogue always on point. And given that the story centers around a dirt-poor sharecropping family and the Indian family whose land they live on, the book dovetailed nicely with all the Native American literature I've been reading this year. All told, a goodie, though I kind of felt that the lead character's heart turns dark and desperate in a way that didn't jive with his character as established early in the novel. Still, I dug it.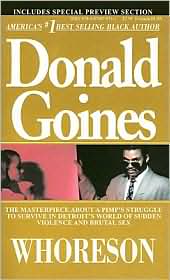 Whoreson by Donald Goines
Knowing my fondness for Iceberg Slim novels, my buddy Kit has been on me to sample some Donald Goines' novels. Goines was a Detroiter who, while doing a stint at Jackson St. Penitentiary, discovered Slim and started writing gritty, ghetto-centric novels in the 1970s.
Whoreson
was his first book and it doesn't get anymore cold-blooded than this. Ruthless and unrepentant. Much like Iceberg Slim, but even darker and without Slim's humor. The book's hero, Whoreson, is the son of a prostitute who enters the pimping game at the young age of 16. He's heartless. The blurb on the dust jacket promises "bitter humor." There was certainly lots of bitter, but not so much humor. I'll be honest, it's a tough read, but compelling in its way. I'm sure to read some more, especially since all his books seem to be on remainder for $2.98 these days.
Lush Life by Richard Price
I love vintage crime (Chandler, Hammett, Spillane), but really haven't read any modern crime writing. This was great. Totally sucked me in. Lush Life takes place in New York's Lower East Side where the lives of the kids from the projects intersect with the boho types gentrifying the neighborhood. The main boho character, Eric Cash, is an awesome character. He's the artist who never made it, who's still waiting tables. He's getting older, his dream is passing him by and he's getting increasingly irritated by the young hipsters whose lives seem to have a greater upside than his. He gets embroiled in a late night con gone wrong and the book takes off from there. The book weighs about 10 pounds, so you'll want to read it quickly.